Water Energy Education Alliance (WEEA)
The Water Energy Education Alliance (WEEA or Alliance) is a coalition of water, energy, and education leaders working together to build and bolster career pathways to water and energy jobs for Southern California high school students. The Alliance is a collection of over 60 professional organizations that include water and energy agencies, departments of education, school districts, colleges, technical trade schools, and more. WEEA is administered by the Municipal Water District of Orange County (MWDOC).
WEEA Leadership Roundtable Meeting Recordings
October 18, 2022 – WEEA Leadership Meeting (flyer)
Download Free Water and Energy Career Brochures!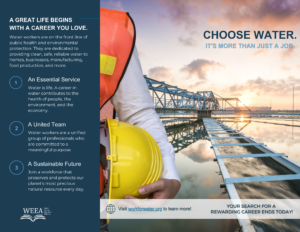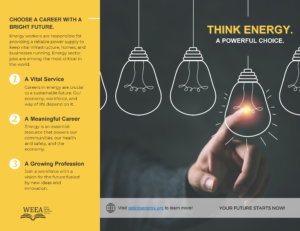 Benefits of CTEs
Over the next decade, the number of California residents age 65 and older is expected to double, reaching 8.6 million. Many of those impending retirements will directly impact the water, wastewater, and energy industry sectors. There are many benefits of cultivating high school CTE programs that focus on workforce pathways in the Energy, Environment, and Utility Sectors (EEU) defined by the California Department of Education. These are a few:
Memberships & Sponsorships
With support from our sponsors, MWDOC is eager to call on the expertise and connections established through this powerful Southern California alliance, and together, assist all Alliance stakeholders as they thoughtfully step up their investment in the education of both high school students, and the teachers who are committed to the academic and career success that will create California's workforce of tomorrow.
Contact:
Tiffany Baca, MWDOC Public Affairs Manager/Executive Director WEEA at tbaca@mwdoc.com
2022/23 WEEA Sponsors