Rebate Amount Increases to $0.50 for MWDOC Spray to Drip Program
Andrea Antony-Morr, Water Use Efficiency Analyst II, MWDOC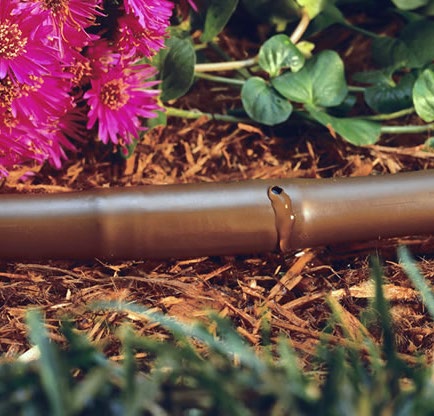 The Municipal Water District of Orange County (MWDOC) is now offering an increased rebate of $0.50 per square foot of spray to drip conversion! The MWDOC Spray to Drip Rebate Program encourages Orange County residents to change their spray irrigation to a drip irrigation system, delivering water only where it is needed, at or near the plant's roots. Water drips slowly from emitters either onto the soil surface or below ground. Not only does this minimize water lost to evaporation and discourage weed growth, but also allows plants to get only the water they need to flourish, reducing the potential for water waste.
Drip irrigation systems can help you reduce your outdoor water use by 30-50%, and can even be customized for different plant varieties in a small area. In a recent evaluation of the MWDOC Spray to Drip Rebate Program, more than 70% of participants reported that since completing their project they noticed increased water savings and a positive change to their landscape. Many participants also noted that the rebate was a helpful incentive for converting to drip irrigation.
The MWDOC Spray to Drip Rebate Program is designed to work in conjunction with the MWDOC Turf Removal Rebate Program. When paired together, these programs lead to even greater water savings. MWDOC is proud to continue supporting Orange County residents in their commitment to save water. To learn more about MWDOC's water saving rebate programs, visit www.mwdoc.com/savewater.