MWDOC School Programs Shift to Virtual Format Following Global Pandemic
Sarah Wilson, Public Affairs Specialist, MWDOC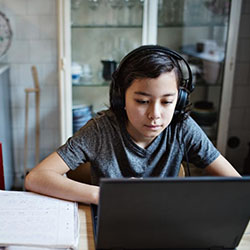 For nearly five decades, the Municipal Water District of Orange County (MWDOC or District) has offered Orange County students and teachers standards-aligned, environment-based water education programs to learn about the importance of water, and what it takes for purveyors to deliver a safe and reliable water supply to their homes, schools, and communities.
In March 2020, a record number of businesses and schools were forced to close their doors due to the rapid spread of the COVID-19 virus. As a direct result, contractors for the MWDOC Choice Water Education School Programs— Shows That Teach, Discovery Cube Orange County, and Bolsa Chica Conservancy—were unable to complete the in-class school visits that were scheduled for the remainder of the 2019-2020 school year. As teachers and students were left to navigate the challenges of online education, MWDOC Public Affairs, MWDOC Choice School Program contractors, and participating MWDOC member agencies worked together to meet the needs of Orange County K-12 students who are now identified as distance learners. To assist teachers, parents, and students in adapting to this new way of learning, MWDOC's in-class Choice School Programs were shifted to short, engaging, pre-recorded virtual water lessons.
Elementary School Program (grades K-2): Shows That Teach
To address the shorter attention span of the K-2 grade levels, Shows That Teach produced 10 video episodes, each no longer than 10 minutes in length. Using characters, music, and humor to engage students, each video contains a positive message related to character-building followed by a water-centric lesson on topics such as dams, aquifers, reservoirs, water supply, conservation, and more. Additionally, Shows That Teach has proactively offered six (6) live, 10- minute Zoom classroom sessions to promote the MWDOC Choice School Program as an additional resource for Orange County teachers and parents.
Elementary School (grades 3-6) and Middle School (grades 7-8) programs: Discovery Cube Orange County
Discovery Cube Orange County (DCOC) developed six (6) grade-specific videos that align with the content that would have been covered in the in-class assemblies. Through these pre-recorded video episodes, DCOC instructors engage students in short, science-based water lessons covering topics such as water supply sources, the value of Orange County water supply, and the importance of using water wisely. Grade-specific video content includes:
3rd Grade: Local climate, healthy ecosystems, and the necessity of water to all life
4th Grade: Local water resources, and how humans affect, depend on, and benefit from water
5th Grade: Water supply, water cycle, and ways to be water efficient
6th Grade: Humans, weather, and other natural cycles affect the health of ecosystems
7th Grade: Introduction to water quality testing
8th Grade: Direct and indirect water use
High School Program (grades 9-12): Bolsa Chica Conservancy
Bolsa Chica Conservancy committed to three (3) pre-recorded video episodes that align closely with the in-class sessions offered at the start of the school year. Students are encouraged to think about their connection to the environment and what steps they can take to protect the natural resources we depend on every day.
1st Episode: Students get an introduction to California water resources and water supply challenges, discover the importance of the Sacramento-San Joaquin Bay Delta, and explore how best to protect the quality and quantity of water. Much like the in-class session, students receive links to pre- and post-test questions to gauge their overall water awareness and understanding of the content.
2nd Episode: Students are guided through a hands-on water filtration demonstration, and learn how everyday activities can significantly impact water supply and water quality.
3rd Episode: Students learn about the important role they play in maintaining a reliable water supply now, and long into the future. Students receive an at-home water audit worksheet that can be completed either independently or submitted to their teacher.
MWDOC and participating member agencies remain committed to providing Orange County K-12 teachers, parents, and students with valuable, water-centric programs and information. These virtual water lessons serve as an additional resource for teachers and students to continue their water education not only in the transition to distance learning, but also long after the COVID-19 pandemic. If you are interested in learning more about the MWDOC Water Education School Programs and the shift to a virtual format, visit www.mwdoc.com/schoolprograms.